Clever Copy & Calls to Action
00006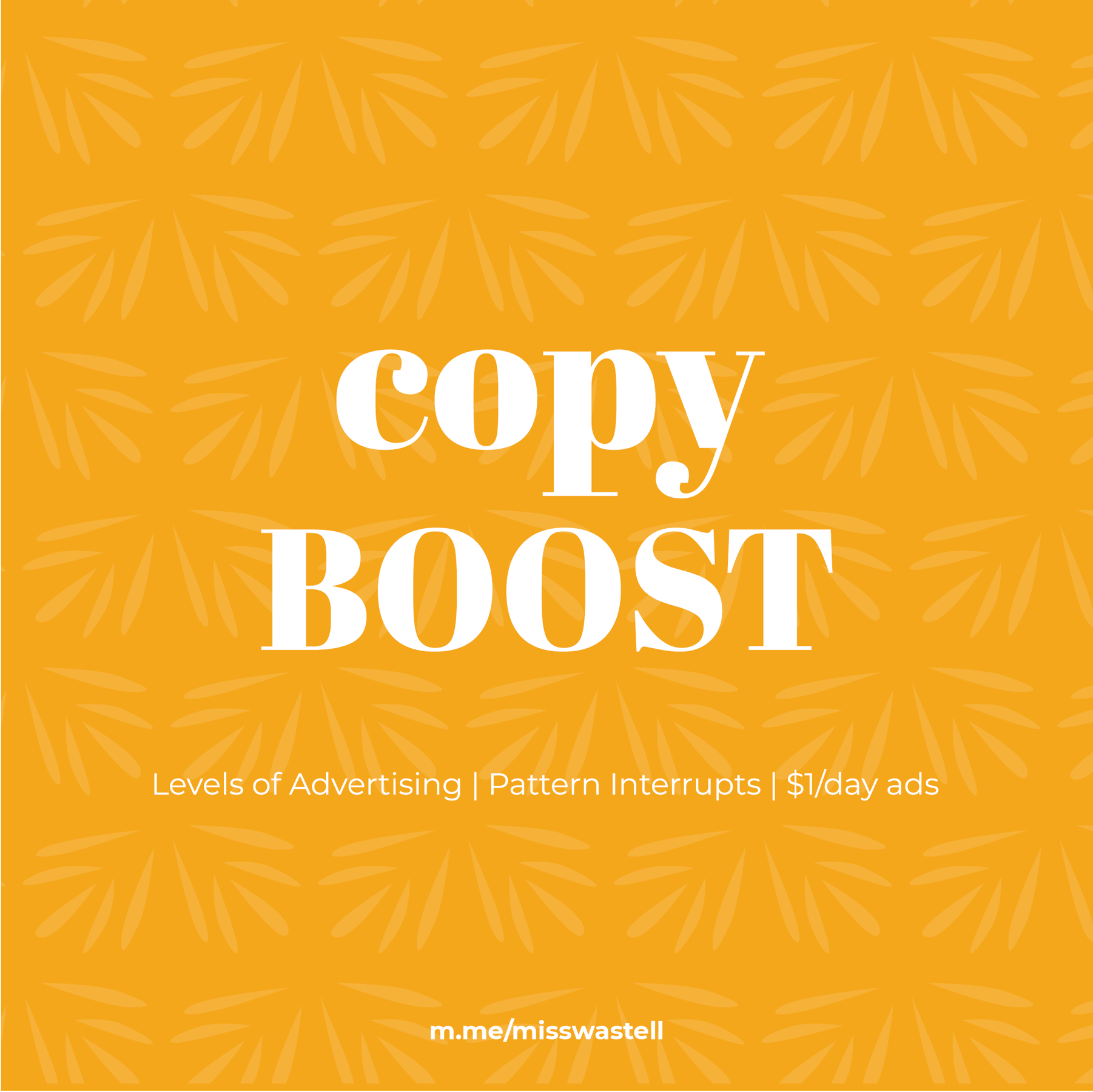 STRUGGLING TO FIND THE RIGHT WORDS TO CONVERT YOUR AUDIENCE ONLINE?
SPOILER ALERT :CLEVER, CONVERSATIONAL COPY & CTAS ARE KEY
Before you hire a consultant - there ARE a few things you can do yourself - like using short, conversational copy and ensuring your communications ALWAYS have a clear Call to Action (CTA)!
If you're familiar with computer systems & processes and you know the cheeky tricks and tools, you can test what messaging works on your audience BEFORE you go to an agency- OR if you get the hang of it, you could end up writing online content yourself!
WHAT DO YOU GET?
1x 45min Private Tuition Session via Zoom to LEARN what you need to do
Learn what CTAs are and why they are SO important when it comes to sharing content on your social channels
Understand the importance of the 3 Click Rule - and how to use clever copy & CTAs to get your audience to engage/purchase in 3 CLICKS.
Get the tools you need to help you create engaging, meaningful and conversational copy on your digital channels
Find out how to increase your conversion with a few copy changes & clever CTAs in the right places along the customer purchase journey.
1x 30min Private Evaluation Session via Zoom 4 weeks later
Evaluate the changes you've made & the success they have had on your sales
Learn what to measure, why evaluation is one of the most important factors in marketing
Get suggestions on what else you can do to increase your sales with clever copy & CTAs
WHY ZOOM?
With Zoom video calling, you can share your screen with me, so I can walk you through each step. I am ALL about making sure you stop taking notes & start taking action. What's the point of Private Tuition if we don't Stop Taking Notes & Start Taking Action.
These $100 Boosters are specifically made for Sole Traders, Small Business Owners & Studio Owners on a budget - with experience working with phone apps & computer systems