Get Attention with Facebook Ads
00002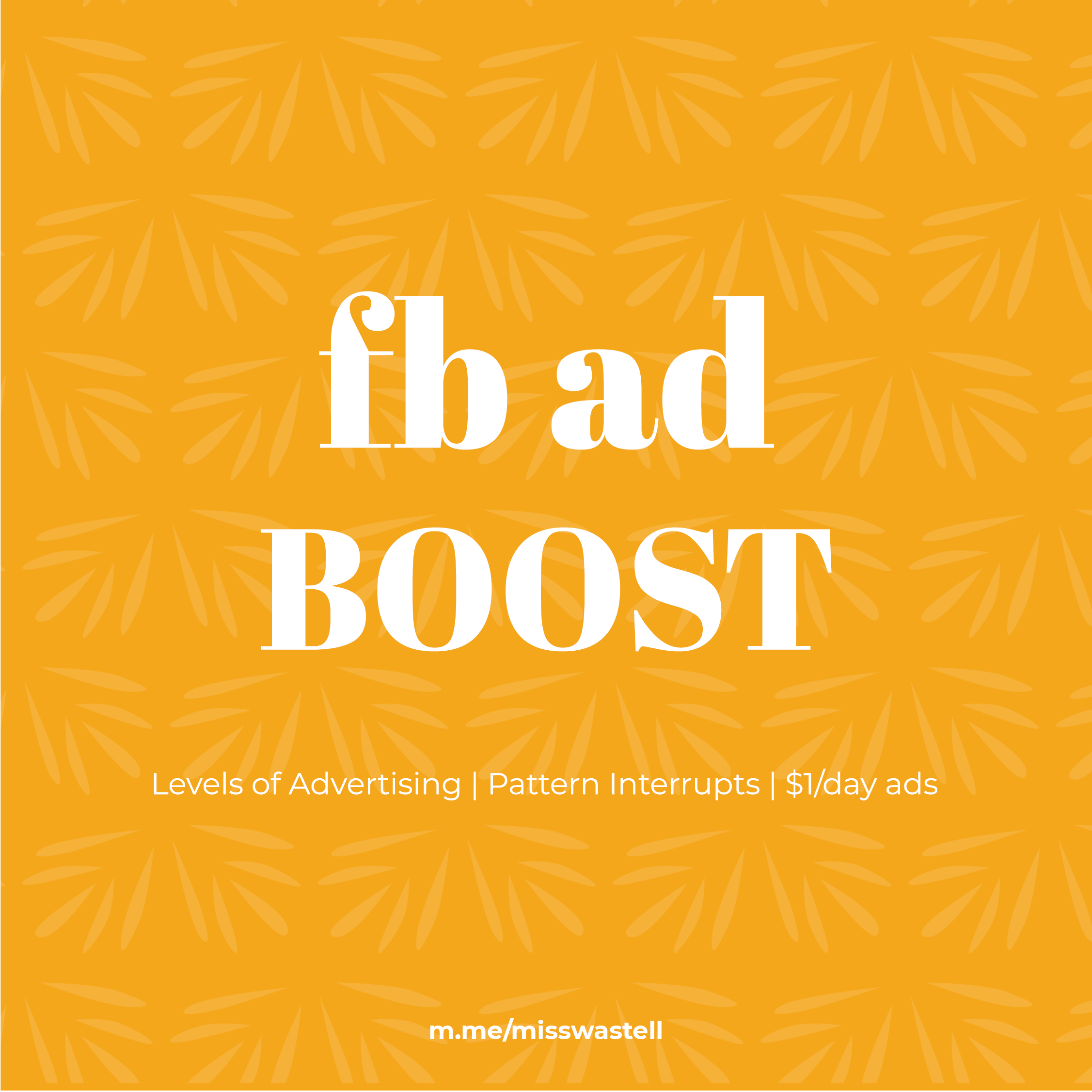 WANT TO ADVERTISE ON FACEBOOK, BUT CAN'T AFFORD AN AGENCY JUST YET?
SPOILER ALERT : YOU CAN TEST FOR $1/DAY
Before you hire a consultant - there ARE a few things you can do yourself - like testing your own Facebook Ads for $1/day! If you're familiar with computer systems & processes and you know the cheeky tricks and tools, you can test what works on your audience BEFORE you make a larger investment. OR if you get the hang of it, you could end up running your ads yourself !
WHAT DO YOU GET?
1x 45min Private Tuition Session via Zoom to LEARN what you need to do
Learn how Facebook advertising works; what to test, how to test and WHY you should test multiple ads and audiences
Understand the importance of running ads for engagement AS WELL AS for sales
Get the tools to help you with "posting anxiety" & learn what types of content & copy get attention
Find out how you can attract attention with "Pattern Interrupts" in what is becoming one of the most competitive advertising markets
1x 30min Private Evaluation Session via Zoom 4 weeks later
Evaluate the changes you've made & the success they have had on your sales
Learn what to measure, why evaluation is one of the most important factors in marketing
Get suggestions on what else you can do to increase your sales.
WHY ZOOM?
With Zoom video calling, you can share your screen with me, so I can walk you through each step. I am ALL about making sure you stop taking notes & start taking action. What's the point of Private Tuition if we don't Stop Taking Notes & Start Taking Action.

These $100 Boosters are specifically made for Sole Traders, Small Business Owners & Studio Owners on a budget - with experience working with phone apps & computer systems.